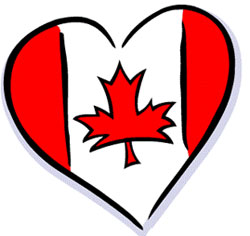 On July 1, 1867, the British North Americas Act created the Dominion of Canada as a federation of four provinces. This event is known as the confederation of Canada. The anniversary of this date was called Dominion Day until 1982. On October 27, 1982, July 1st  the name was changed from Dominion Day to "Canada Day". July 1 is the 182nd day of the year, and there are 183 days left until the end of the year, making it very close to the halfway point of the year.
Do you know Canada ...
The name Canada derives from an Iroquoian word for "village," kanata, that French explorers heard used to refer to the area near present-day Quebec City.
The capital of Canada is Ottawa, Ontario.
At 3,855,103 square miles, Canada is the second largest country in the world, behind Russia.
Her Majesty Queen Elizabeth is Canada's Head of State and the Queen of Canada.
Canada's land is divided into ten provinces and three territories. (The ten provinces are Alberta, British Columbia, Manitoba, New Brunswick, Newfoundland and Labrador, Nova Scotia, Ontario, Prince Edward Island, Quebec, and Saskatchewan. The three territories are Northwest Territories, Nunavut, and Yukon.)
The east coast of Canada was settled by Vikings around the year A.D. 1000. Archaeological evidence of a settlement has been found at L'anse aux Meadows, Newfoundland.
Canada has the longest coastline of any country in the world at 151,600 miles.
Canada contains 9% of the world's renewable water supply.
The world's strongest current is found in the Nakwakto Rapids at Slingsby Channel, British Columbia. The current has been measured at speeds up to 18.4 miles per hour.
Canada has more donut shops per capita than the United States does.
Canada's national animal is the beaver.
Canada's two official sports are lacrosse and hockey.
Canada's national colors are red and white.
Canadians consume more Kraft Dinner (aka Kraft Macaroni & Cheese)per capita than any other nationality on earth.
Interesting Stuff
On June 20, 1868, a royal proclamation signed by the Governor General, Viscount Monck, called upon all Her Majesty's loving subjects throughout Canada to join in the celebration of the anniversary of the formation of the union of the British North America provinces into a federation under the name of Canada on July 1st.
Canada Day is celebrated on July 1st every year in Canada.  But after the original declaration in 1868, there is no record of any organized ceremonies until 1917. This was the 50th anniversary of Confederation celebration.
The Canadian government does not count Sunday as Canada Day under the federal Holidays Act, if the 1 July falls on a Sunday then July 2 is the statutory holiday instead.
This holiday was given the statutory value on 1879 and was designated as the Dominion Day.
On July 1st, 1923, the Canadian government enacted the Chinese Immigration Act, stopping all immigration from China. Chinese-Canadians began to refer to July 1 as Humiliation Day and refused to participate in Dominion Day celebrations, until the act was repealed in 1947.
Since the 1950's, the cross-border cousin-cities of Detroit, Michigan, and Windsor, Ontario, have celebrated Canada Day and the United States' Independence Day with the International Freedom Festival. A massive fireworks display is held each year, with fireworks exploding over the Detroit River, the strait that separates the two cities by less than one mile.
Since 1958, the Canadian government has arranged for an annual observance of Canada's national day with the Secretary of State of Canada in charge of the coordination. There is a Trooping the Colours ceremony on the lawn of Parliament Hill in the afternoon, a sunset ceremony in the evening followed by a mass band concert and fireworks display.
The CBC also began country wide broadcasts on Canada Day in 1958.
In 1967,

color

television was introduced to Canada on Canada Day.
On Canada's Centennial in 1967, Her Majesty Queen Elizabeth II attended the celebrations on Parliament Hill in Ottawa.
Famous Canadians born on the Canada Day, Pamela Anderson, Dan Ackroyd, Jamie Farr and Estee Lauder.
In Quebec many people spend Canada Day moving their possessions from one house to another.  This is because in the Province of Quebec, many home leases start on July 1 and last for exactly one year. Hence, many people in Quebec spend Canada Day moving their possessions from one house to another. In this province, Canada Day is also known as Moving Day.
July 1 is also a Memorial Day in the province of Newfoundland and Labrador because this day commemorates the heavy loss of life in the Newfoundland Regiment on the first day of the Battle of the Somme during World War I.
Since 2006 Canada Day celebrations were also held at London's Trafalgar Square in the United Kingdom. It is expected that these celebrations will be held annually. Depending on the availability of Trafalgar Square, these events may be held just before, on or just after July 1.
So, what do we as Canadians have to be Proud of? ...
Smarties
Crispy Crunch, Coffee Crisp
The size of our football fields, one less down, and bigger balls
Baseball is Canadian - First game: June 4, 1838 - Igersoll, ON
Lacrosse is Canadian
Hockey is Canadian
Basketball is Canadian. Canadian James Naismith invented basketball to give his physical education students at the YMCA Training School in Springfield, Massachusetts, an indoor team sport to play during the long winters.
Apple pie is Canadian
Tim Hortons beats Dunkin' Donuts (a US company)
In the war of 1812, started by America, Canadians pushed the Americans back ... past their White House. Oh, did I mention that we also burned their White House?
Our civil war was fought in a bar - it lasted a little over an hour
A Canadian invented Standard Time
The Hudsons Bay Company (aka 'The Bay') is the world's oldest company
The average dog sled team can kill and devour a full grown human in under 3 minutes ---- (I am not sure I needed to know that :-)
We invented: Ski-doos, jet-ski, Velcro, Zippers, Insulin, Penicillin, Zambonies, and the telephone
A Canadian invented Superman
A black bear cub from Canada named Winnipeg (or "Winnie," for short) was one of the most popular attractions at the London Zoo after it was donated to the zoo in 1915. Winnie became a favorite of Christopher Robin Milne and inspired the stories written by his father, A.A. Milne, about Winnie-the-Pooh
English Lyrics of O Canada!

O Canada!
Our home and native land!
True patriot love in all thy sons command.

With glowing hearts we see thee rise,
The True North strong and free!

From far and wide,
O Canada, we stand on guard for thee.

God keep our land glorious and free!
O Canada, we stand on guard for thee.

O Canada, we stand on guard for thee.

O Canada!
Terre de nos aïeux,
Ton front est ceint de fleurons glorieux!

Car ton bras sait porter l'épée,
Il sait porter la croix!

Ton histoire est une épopée
Des plus brillants exploits.

Et ta valeur, de foi trempée,
Protégera nos foyers et nos droits.

Protégera nos foyers et nos droits.
Comments: